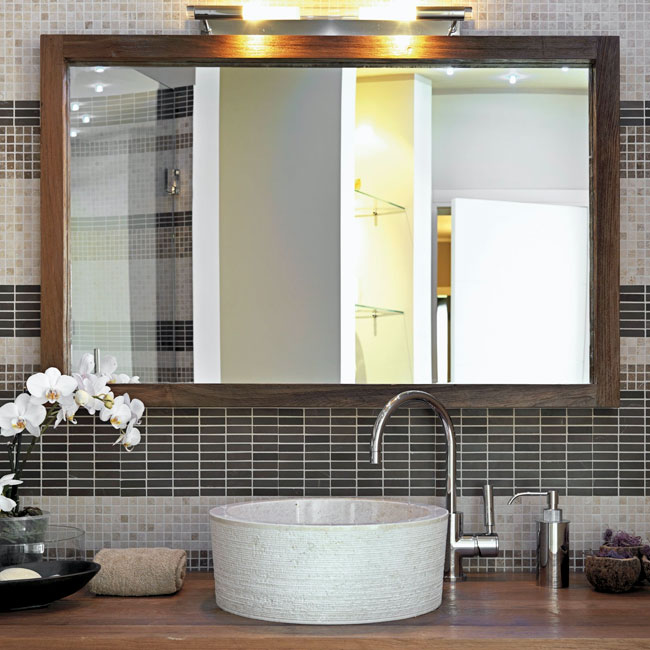 Whether you have recently redone your Pittsburgh bathroom, just want a refresh, or your mirror is simply in need of replacement, finding a mirror that is right for your space can be one of the toughest decisions you need to make. Your bathroom mirror, much like the shower enclosure you choose, can set the tone for the entire room. We are going to review things to consider when you are selecting the perfect bathroom mirror for your home, so you can be sure to start the New Year off right.
How to Select the Perfect Bathroom Mirror for your Pittsburgh Home
A good mirror is an essential component to many rooms in your home, especially your bathroom. Like all choices you face when it comes to your home, there are many options: size, style, shape, color, etc. Finding the perfect bathroom mirror should be fun and enjoyable, so we have provided some tips below to help you get your bathroom mirror just right.
– Sizing: When finding a mirror that is suited for your space, you should consider proportion. To create a balanced look, think about the size of your mirror relative to that of your vanity. You want a mirror that is big enough to comfortably use, but not overwhelming for the space. Of course, when it comes to sizing, you also need to ensure that the mirror you select will fit. Measure the wall where the mirror will go and be sure to consider any shelving, windows, lighting, or other fixed objects that could impact the size of mirror you can fit in the space. Typically, the bathroom mirror shouldn't be wider than the vanity. A common approach is to purchase a size that is the exact same width of the vanity to create a sense of symmetry and balance.
– Number of Mirrors: When you are trying to find the perfect bathroom mirror, the solution may actually be multiple mirrors. If you have space and a wide vanity, like a double vanity, you can use single or multiple mirrors. If you want your bathroom to have a more vertical look, using several tall and skinny mirrors can help to emphasize the height of the space (this is especially effective when you have high ceilings). Keep in mind, using a single large mirror opens up the room more by reflecting more of the opposite walls. You can also use multiple mirrors even if you only have one sink; this choice is really based on personal preference.
– Shape: There are many different shapes of mirrors. What shape you choose is up to you and your design choices. Try to pick a bathroom mirror that is appropriate for the ambiance and aesthetic of your bathroom. Round mirrors can be a great way to bring in some softness to the room. If you have a feature wall behind the mirror (one with wallpaper or tile), a round mirror can give more opportunity to show off the wall. Round mirrors also standardly look better with a pedestal sink, because the curves in the mirror simulate the angles of the sink. Rectangular mirrors create more of a classic look and are generally more functional. Geometric and irregularly shaped mirrors can create a visual appeal and decorative element for your bathroom.
– Framed or Frameless: When you are trying to find the perfect bathroom mirror, you not only need to decide on shape, you also need to choose if you want to go with a framed or frameless mirror. Frameless mirrors are a popular choice in bathrooms because they tend to be less expensive and they give a modern appeal. A frameless mirror is easy to style in any space and goes well with all designs. A framed mirror can add a decorative or polished touch and can really change the space, depending on what type and style of frame you choose.
When it comes to finding the perfect bathroom mirror or mirrors for your Pittsburgh home, you can't go wrong. The decision is really up to you and your personal preference. The possibilities are endless. Sometimes the best option is even having a custom mirror created for your space.
At Residential Glass we are Pittsburgh's mirror specialists. Our free quote, expert installation process, and lifetime warranty makes us your go-to source for mirror installation and/or replacement.
We install custom-shaped mirrors in all shapes and sizes. There's no mirror too small or large for our team. We can add decorative designs and work with you to customize your home's mirrors.
No matter what size or style of mirror you're looking for, we can help. Fill out our online form or give us a call to get started on your free quote, and a mirror expert will get in touch with you to talk about your options.