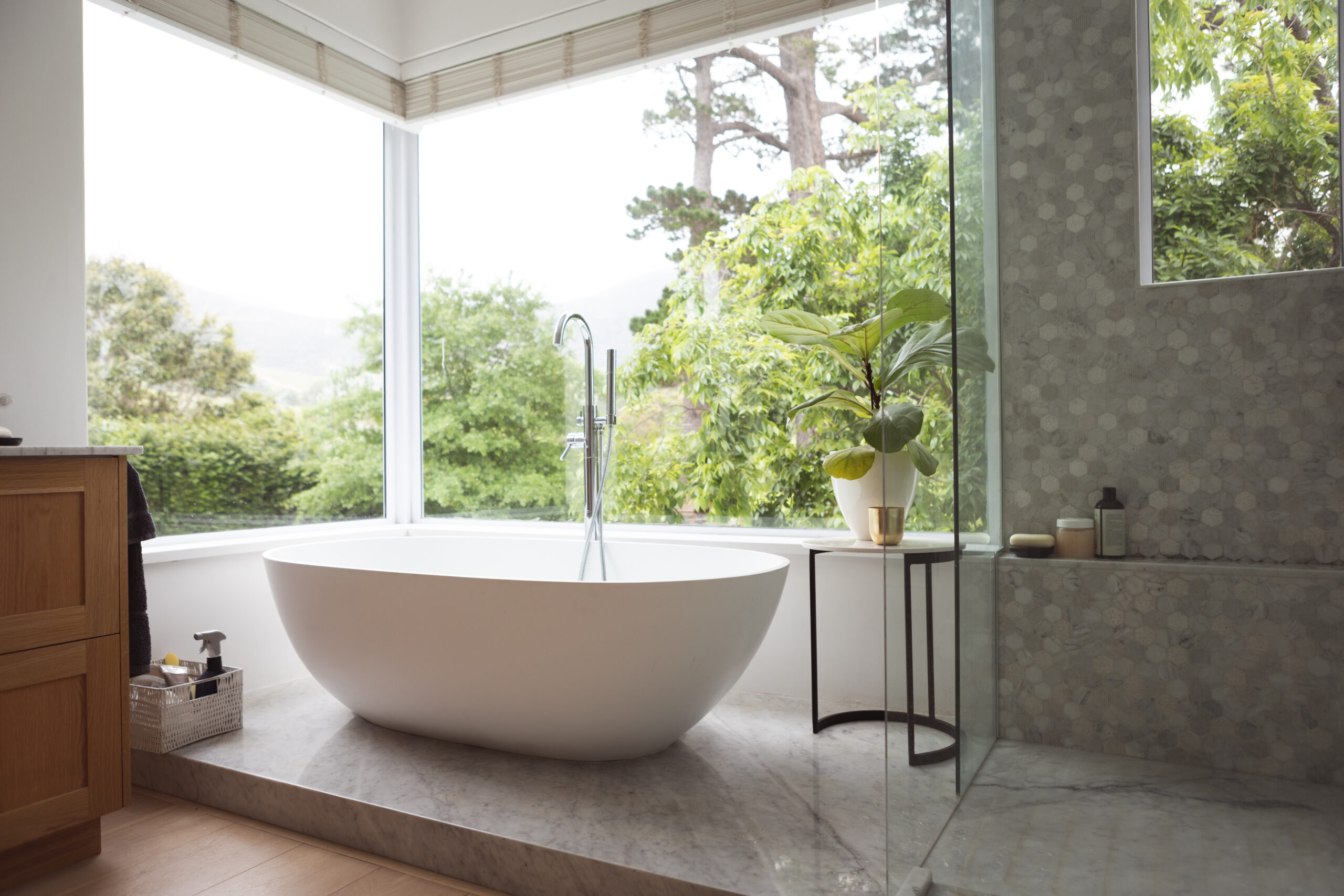 Spring has sprung, and for many people, like the fresh flowers blooming, that means it is time for a new start, which can mean it's time to spruce up around your home. The bathroom is undoubtedly among the most used spaces in any home. People spend about 2 years of their lives in their bathroom (crazy, we know), so although functionality is the primary concern, it should also look and feel good. If you are thinking about refreshing your home's bathroom, you will want to know the current bathroom trends, to ensure you don't outdate your room or create a space that doesn't live up to its full potential.
Current Bathroom Trends
When it comes to a home's bathroom, in most cases, the space is smaller than the other rooms in your home, meaning you have a tinier canvas to work with, but that shouldn't stop you from creating the place of your dreams. Whether you are looking to do some small upgrades or a full remodel, you have options. Let's dive into some current bathroom trends.
– Going Bold: Recently, people have started to add a little drama into their bathroom. That can mean adding some wallpaper with loud designs and colors, picking extravagant light fixtures, having a unique and stand out mirror installed in the space, or more. This current bathroom trend is all about creating a space that is different and has out of the box elements.
– Unique Bathtubs and Showers: We have all walked into a bathroom, or saw photos, and thought, "Wow! I would really love that bathtub or shower". Having a bathtub or shower that is the focal point of the space is trending. There are so many options when it comes to these two items, and people are getting away from the traditional bathtub and shower combo and adding stand alone and stand out designs.
– Statement Tile: The current bathroom trends are all about the tile. Whether it's the tile on your floors, walls, or in the shower, mosaics and colors are in. Since bathroom floors generally aren't very large, they're a place in which a higher-priced tile won't break the bank, and these complex mosaics make the floor a focal point, and provide a great opportunity to introduce a good dose of pattern and color into a bathroom (the spruce).
– Getting Back to Nature: For the last few years, the trend for bathrooms has been white and gray vanities and creating a sterile looking environment. Recently, trends are shifting back to having natural wood in the space. Adding beige, browns, actual wood, etc. to your bathroom is a simple yet effective way to connect to the great outdoors through your interior and add some warmth to the room.
– Embracing Metallic Accents: This current bathroom trend can be found throughout homes right now. Hardware and fixtures in kitchens and bathrooms are shifting from silver and going more gold and cooper. You can have matte or shiny, or a combination of both, but there is no denying that gold is back.
The possibilities are endless when it comes to redesigning or refreshing your Pittsburgh home's bathrooms. We could go on and on, but will stop here for now. When it comes to your home's bathroom, the key is creating a space that you and your family love and feel comfortable in and R and C Glass can help.
We handle all of your Pittsburgh shower glass needs. Our team installs a wide variety of new shower glass enclosures and doors. From classic framed shower glass to a modern, frameless look, our glass experts can help you find the right glass panels for your new bathroom. We offer free estimates.
Looking for new bathroom mirrors? We can help with that as well. No matter what size or style of mirror you're looking for, we can help. We're Pittsburgh's mirror specialists. Our free quote, expert installation process, and lifetime warranty makes us your go-to source for mirror replacement.