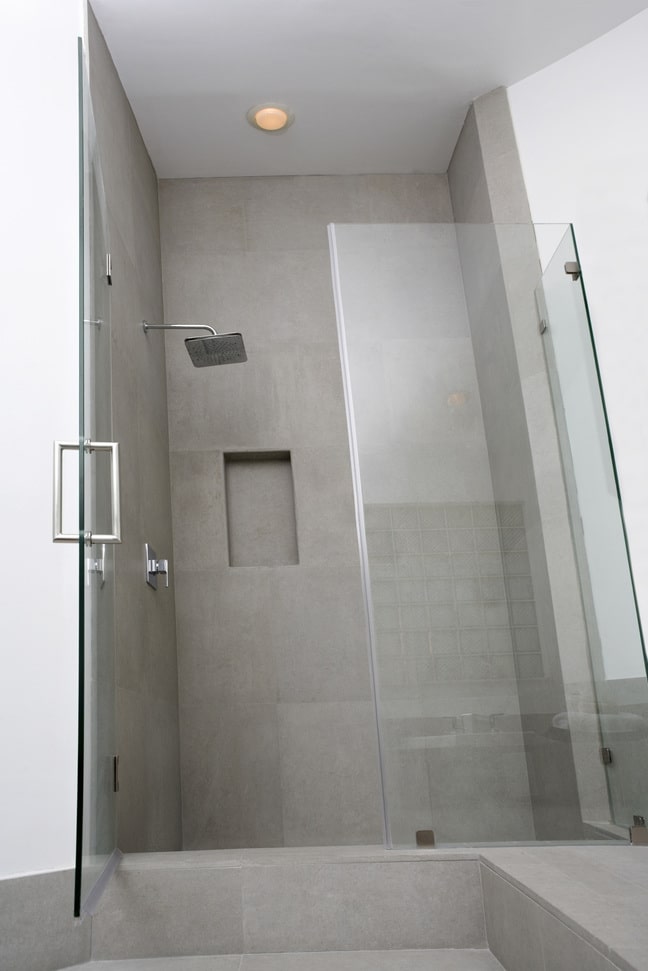 When it comes to designing your ideal bathroom, choosing the right shower enclosure may be one of the hardest decisions you have to make. Is a shower curtain or shower glass right for you? Will one or the other make or break the entire aesthetics of your space? Choosing the right shower enclosure for your bathroom is perhaps one of the most important choices you can make when it comes to creating the bathroom of your dreams.
We are going to review the benefits of shower glass to help you decide what is right for you and your Pittsburgh bathroom.
What Benefits does Shower Glass Provide for Your Space?
Glass shower doors don't just look better than a shower curtain, they offer several other benefits that many homeowners don't think about.
– Eliminate Drafts: Shower glass can help to reduce cool, breezy drafts that are common with shower curtains. This can help you stay warm and cozy inside of your shower.
– Less of a Mess: With a shower curtain, water is often able to make its way to your floor and outside of the shower. Shower glass can help to keep the water where it belongs which will keep your bathroom cleaner and can prevent future water damage issues.
– Stay Cleaner: Shower curtains can breed a lot of mold and mildew, which can be unhealthy, as well as lead to an unappealing look. With glass, you have a clear view of the space, water can get to everything, and when the water is off, all surfaces are exposed, making it possible for it all to dry. Glass can also be cleaned easily with warm soapy water.
– Brighter and Lighter: A glass shower door allows more light in the shower and the entire space. This gives you more visibility and is aesthetically pleasing. Not to mention, shower glass creates the illusion of a larger more open bathroom space.
– Enhance Your Design: Shower glass allows you to show off your shower design. You likely spent time picking out the perfect tile, and glass will allow you to display it and enjoy it.
– No Recurring Costs: While with the initial cost of a shower curtain versus a glass door, the shower curtain is cheaper; it can add up to be a lot over time because you need to replace the shower liner on a regular basis. This doesn't happen with glass enclosures.
– Increased Home Value: Having shower glass can increase the value of your home as it is seen as more desirable.
Choosing the Right Shower Enclosure for Your Bathroom
Not only does shower glass and doors make your bathroom look better, it can add value to your home, help you keep the space cleaner, and save you money in the long run.
Planning a bathroom remodel in the Pittsburgh area? Residential Glass can help. Our team installs a wide variety of new shower glass enclosures and doors. From classic framed shower glass to a modern, frameless look, our glass experts can help you find the right glass panels for your new bathroom.
We offer free estimates. Just contact us to learn more about our shower glass installation in Pittsburgh and talk to a member of our team about your project.
We'd love to learn how we can help make your vision for your new shower a reality!